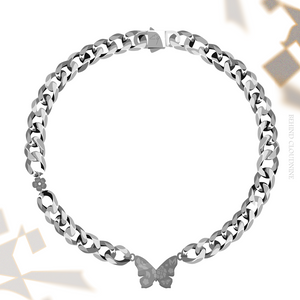 COMING SOON (OCTOBER)
One of the staples in Yoongi's fashion are his various (cuban link) chain jewelry, as seen in many previous BTS concerts, & especially during the D-DAY tour. 

The butterfly pendant on this bracelet is meant to contrast the bold chains. The engraved patterns on the butterfly (caught in mid-flight) is inspired by the delicate (lotus/peony) flowers adorning Yoongi's microphone, earpiece, & guitar. There is also a flower charm featured on his guitar pick.
♥️ Details
stainless steel (silver plating)
total necklace length: ~42 cm
cuban chain link: 9 mm width